Why I Seek Re-election as Your New England Director

By Fred Hopengarten, K1VR

Since you live in New Hampshire, I thought you might be interested in some things I've done in the Granite State.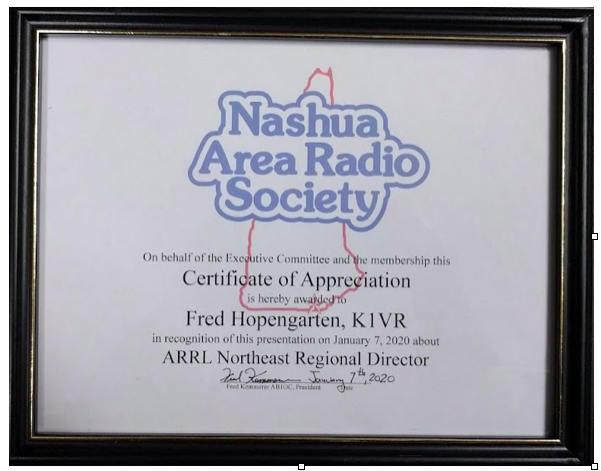 At the Legislature. On your behalf, as the New England Director, I've appeared for hams before the state legislature twice, arguing for a bill that would permit ham radio antennas in homeowner association properties. It would modify NH RSA 356-B, the Condominium Act. The bills (I keep redrafting to meet objections) were introduced by Rep. Glen Aldrich, KC1AAI (R-Belknap 2, representing Gilford and Meredith), and Vice President of the Central NH ARC. Our co-sponsor was Peter Torosian, W1CBY (R-Rockingham 14, representing Atkinson and Plaistow). In cooperation with a larger group of NH hams, including former Representative Bill Ohm, W1OHM, (R-Hillsborough 36, representing Nashua) who was a university classmate of mine, we intend to try again. Though the HOA lobby is very strong, we learn something each time.
Before a Zoning Board of Appeals. I represented John Webster, NN1SS, in his quest to obtain a permit for two 90' Rohn 45 towers in Milford, NH. He was opposed by a neighbor. The hearing was held over two different nights, and lasted over four hours in total. But I succeeded in getting John his Special Permit. If you'd like to see the record in the matter (111 pages), go to https://www.milford.nh.gov/sites/g/files/vyhlif4701/f/agendas/2021-14_webster_m53l16_se_0.pdf. The first hearing minutes are at pages 7-11, https://www.milford.nh.gov/sites/g/files/vyhlif4701/f/agendas/21-07-15_zba_minutes_draft.pdf, with the ultimate decision made at pages 3-12 of the second hearing minutes found at NN1SS minutes https://www.milford.nh.gov/sites/g/files/vyhlif4701/f/agendas/21-07-15_zba_minutes_draft.pdf. His permit was granted.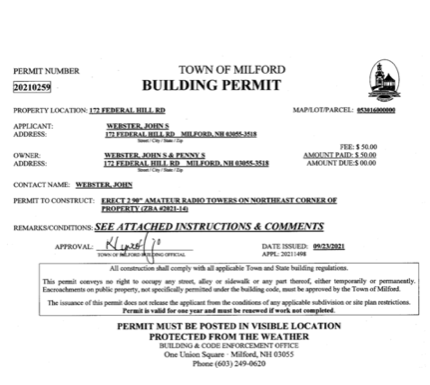 As I write this letter, the process of construction is underway!
Before the New Hampshire Supreme Court. It was my great privilege to make new law in a "tower law" case in New Hampshire,
Koor Communications v. Lebanon, 148 NH 618 (2002). This was a commercial radio tower case before the New Hampshire Supreme Court. In essence, Koor Communications (run by Bob Vinikoor, W3CFE) had an FCC license for an AM station in Lebanon. He wanted to erect an antenna (a vertical) greater than the height permitted by the Lebanon zoning bylaw. The maximum height permitted by Lebanon was lower than the minimum height required by the FCC. The NH Supreme Court decided in favor of Koor Communications, on the grounds that the FCC requirement pre-empted the local zoning bylaw. The idea that FCC law preempts local zoning should be helpful in any antenna case.
By the way, every lawyer should dream about arguing a case before the New Hampshire Supreme Court in the winter, with live fire in the fireplace off to the side, wonderful staff, and one of the nicest courtrooms ever. If you have a chance, drop by the building and peek inside. It is in Concord, and easy to find.
Continuing on the concept that I've been to New Hampshire, I sent my son to Brewster Academy, in Wolfeboro – literally on the shore of Lake Winnipesaukee. It was there that he developed an interest in becoming a mechanical engineer, which he is today, with National Grid. But that wasn't my only experience in Wolfeboro. I had a client with a Rohn 55 tower on the outskirts of Wolfeboro, holding the transmit antenna for a local FM station. When he wanted to exchange the tower to a sturdier Sabre tower, he asked me to appear for him, with a Laconia lawyer, before the town board. The Town Planning Department heavily opposed the project, but if you use a cell phone in Wolfeboro today, you can thank me for the service. Want to know where many of those Rohn 55 sections from Wolfeboro are today? My back yard.
And Now, Some ARRL Topics
Here are some topics raised in the last election, and what happened since.
The Amateur Radio Parity Act. In the last election, this issue was very much alive. My position was that this bill was a giant mistake. And I worked very hard to get the Board to withdraw support for this proposed federal law. I published articles and lobbied other Board members. They agreed, and the bill was pulled by its sponsor. As drafted, if you have a camp near a lake and you're a member of a road association (an organization formed only to plow the roads and collect garbage) you'd have been forced to get prior approval from the road association before you could erect an antenna. I've spent hundreds of hours as a co-author of a replacement bill. The bill should be "dropped" (introduced) any day now, but until then the language is being withheld, until we know what the appropriate Congressional committee will approve. When that happens, I'll be back in Washington to lobby for it.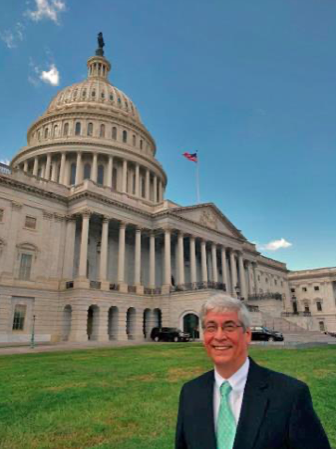 My ARRL Voice. As a founder of MAV, I worked to change the composition of the Board. Of five candidates we put forward in 2018, we elected four – ending a period of infighting and retribution by replacing four "old school" Board Members.
Elections Rules. Matters concerning candidates for director or vice-director of the ARRL have been considered "personnel matters" and are discussed behind closed doors. The result is that candidates have been disqualified that I don't believe should have been disqualified. And in the past it has been almost impossible to discern what really happened and the reasons for disqualification. Do you think candidates for office should be disqualified for reasons we may never know? Or do you think the voters should decide?
Standing Orders. The ARRL Board of Directors Standing Orders have been secret for decades. I figured out that each one of them was created by a Board meeting minute, subsequently published, and that there was therefore no reason at all for them to be hidden behind a secrecy wall, available only to officers, directors, and vice directors. So I published them, after deleting the 119 standing Orders that had been withdrawn by subsequent Board action. But they were still in chronological order, and hard to figure out. With the help of K1DCA, I then published them a second time, but this time grouped by subject. They can be found at https://nediv.arrl.org/2021/07/21/arrl-board-of-directors-standing-orders-organized-by-subject/
Life Long Learning. This summer, I contributed to the ARRL LLL program by recording a six-part series on antenna zoning. Here's what the start of Part One looks like: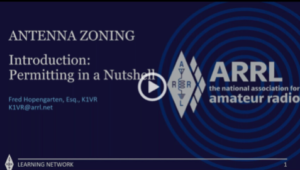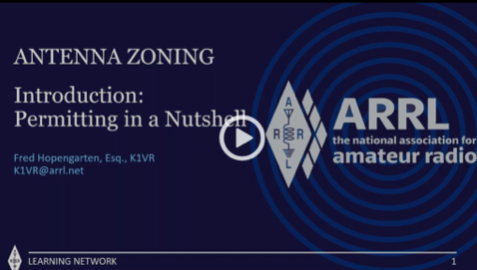 You may access the series starting at https://www.gotostage.com/channel/d8ea15d6ea99464e8ec08c33d7e1e3e5/recording/989509baacfc4ff3b14d38c915d9e17e/watch?source=CHANNEL
Teleconferencing. Last time around I wrote: "In this modern day, when teleconferencing is easy and inexpensive, should teleconferencing be used in-between full Board meetings?" That query sort of fell into the Board's lap. When Covid-19 appeared, as I was ahead of the curve, I suggested we should buy Zoom licenses, as did others, and it was done. That was easy.
The CAC. Last time around, I suggested that we need to examine why some advisory committee decisions were being rejected. Today, the new Board members have agreed that more deference should be given to advisory committee opinions. When W1UE resigned, I appointed N2WQ, of Westport, CT. He is also VE3EAD and HQ9X. He will be a great addition.
DC Lunch Bunch. On behalf of the ARRL Legislative Action Committee, I created the DC Lunch Bunch, a private lunch with influential Washington types who work at Wiley Rein, NTIA, DHS, FEMA, FCC and so forth. Unfortunately, after meeting in 2019, Covid-19 cut off meetings scheduled to occur in 2020 and 2021. As these are "listening sessions," designed to open up lines of communications with friends and allies, we intend to resume them as soon as possible.
ARRL Dues.Before my time on the Board, the ARRL raised dues and raised some fees. I asked: "Are there other strategies that should be tried?" Since I've been on the Board, we kept the annual dues constant, and you now get four magazines instead of one – a terrific value. I banded together with a few other Board members to create a motion that instructs staff to consider more sources of advertising (think: Harbor Freight, but not Depends). Plus, my plan to raise money with better management of our endowment should further delay any dues increase.
ARRL Membership. Since I joined the Board, the decline in ARRL membership has been reduced. I introduced a motion to examine member benefits, a process that is underway now. And I've introduced the idea that the problem is not encouraging more folks to get an amateur radio license, but rather the problem is "conversion," converting more new hams into members, and getting them on the air.
Investment Management Committee. Reading the back pages of the ARRL Annual report, I discovered that the ARRL has an endowment of ~$40 million, and it has been managed for at least 40 years by ONE GUY, basically unsupervised. We've been lucky. They were good, honest, CPAs. But the supervision by the ARRL Board's Administration & Finance Committee was superficial, because Board members generally have little or no experience in investment management. I created a position paper that convinced the Board to create an Investment Management Committee (IMC). The IMC will recommend a professional money management team to the full Board in January 2022. It's your money, and we're supposed to take care of it. I'm making that happen. The result? We will be able to afford to what we need to do to advance Amateur Radio for us and the next generation.
As you can learn from my views about various issues, I have opinions about how things are working at the ARRL Board level. What's important to understand is that the ARRL is not a larger version of a local club. It has governance, money, personnel, and all sorts of issues with 157,000 members that you don't have at 50-300 members.
You can learn more on my campaign web page, www.Hams4NewEngland.org . I hope you have the confidence to vote from me again. Seek me out at NEAR-fest, if you'd like to chat. I'll have a table.
The previous Director was in office for just short of forever (it was over 20 years), and I thought it was time for a change. By contrast, I promise that I won't hold the office for 20 years.
Please cast your vote when the paper ballot arrives for Fred Hopengarten, K1VR.
73,


More photos below: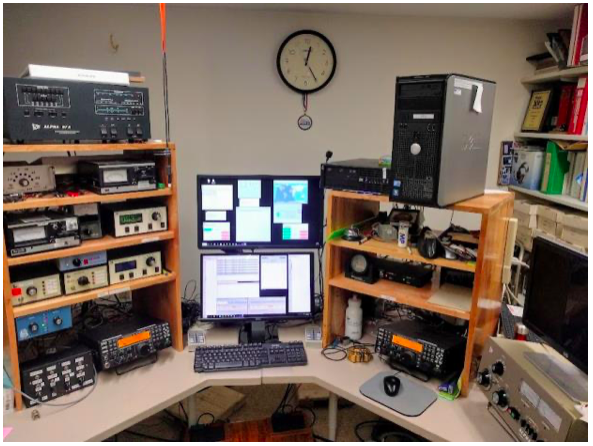 Outdoors: Three stack of OB 16-3 triband Yagi antennas for 20-10. That's 4/4/4 on 20; 4/4/4 on 15; 8/8/8 on 10 (top two rotatable on RingRotors). Cushcraft 40-2CD on 40 (Tailtwister). 40 m 4 SQ, 2 el 80 m vertical phased array, 3 el 160 parasitic array of slopers.
In 2020, this station was used by NN1C to place #1 USA single-op low power in ARRL DX CW, IARU CW, and WAE CW. Marty, NN1C, is now a freshman at Northeastern University.
If you think I may not be able to operate myself, or copy code, here are more photos: